A national provider of video, audio and lighting support, LMG, Inc. promoted an employee to director of LED services.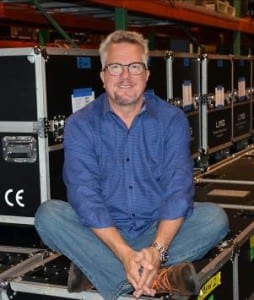 Overseeing the acquisition and advancement of the firm's LED inventory is Doug Eldredge, who will also supervise the LED team nationwide and direct the technical planning and setup of LED technology for corporate events and concert tours.
"Doug's expertise and tireless effort has been invaluable in the growth of our LED product line," said Les Goldberg, CEO and president, LMG. "His new role will focus on strategic planning for the continued expansion of our LED inventory to be able to offer new and innovative solutions for our show and touring clients."
An industry veteran, Eldredge joined LMG in 2010 as an LED technician, and most recently, he held the position of LED services manager. Eldredge has been instrumental in building LMG's LED inventory and developing product lines to suit a range of design needs for the firm's clientele.
In 2012, Eldredge led LMG's LED team at the Bridgestone Super Bowl XLVI Halftime Show, featuring Madonna, to accomplish the creation of the LED stage, which was comprised of 796 11.25MM LED tiles, custom-constructed into 14 LED stage carts that were assembled on the field in less than six minutes.
Acting in different capacities, Eldredge has a detailed roster of work. This includes stage manager, video technician, and crew chief for tours and events, including Blink 182, Daft Punk, Nine Inch Nails, John Mayer, Trans-Siberian Orchestra, The Pixies and several Super Bowl Halftime shows. Eldredge also worked at Walt Disney World for over a decade as an onsite technician and technical director and supported off-property events.
He has a Bachelor of Science from the University of Central Florida and served in the U.S. Army, 82nd Airborne Division.