Following the October resignation of its CEO, Corpus Christi Convention and Visitors Bureau found an interim replacement with 40 years of hospitality industry experience.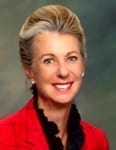 Taking over as interim CEO is Paulette Kluge. She will oversee the CVB's goal of driving overnight visitors to the Greater Corpus Christi area until a permanent replacement is found.
Kluge previously worked at Omni Hotels as director of sales and marketing.
She replaces former CEO Keith Arnold.
See related article: CEO of Corpus Christi CVB suddenly exits role.